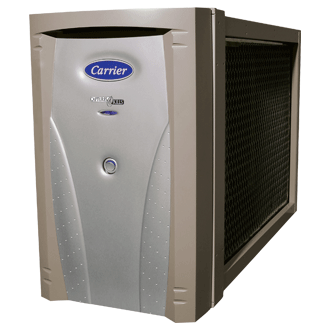 At Buchner Heating, AC, & Plumbing, we don't underestimate the importance of your residential and commercial indoor air quality.  Because most people tend to spend ninety percent of their time indoors, air quality greatly impacts health, comfort, and productivity.  Issues with unstable humidity, airborne contaminants, fumes, and bacteria can lead to a wide range of health problems, property damage, higher HVAC running costs, and equipment failure.  Putting our experience, training, and state-of-the-art technology to work for you, Buchner Heating, AC, & Plumbing will accurately diagnose issues with air quality and determine an effective course of action.
Dependable Indoor Air Quality Solutions
By specializing in Carrier brand products, we offer a broad range of sophisticated whole-home air quality options, including air filters, humidifiers, UV germicidal lights, and heat and energy recovery ventilators.  We ensure the right solution to your specific challenge, achieving both immediate and long-term improvement.  Whether you're unsure of the issue, or targeting a specific problem, Buchner Heating, AC, & Plumbing customizes our recommendations to suit.  Serving the Fox Valley area since 1919, Buchner Heating, AC, & Plumbing is the Name You Trust.
---